Skip to Content
Allow Skabelund Rain Gutters to Protect Your Home
As a sister company of Skabelund Roofing, Skabelund Rain Gutters operates with the same hometown feel the Logan and Layton, UT area has come to expect. Committed to our core values of honesty and integrity, our knowledgeable and trained team offers a variety of residential individuals and commercial businesses our high-quality gutter services and products. Our team goes above and beyond for your gutter system because we understand the importance of a fully functioning set up around your house. Your gutter system protects your home and business from water damage, debris, and more which is why you need a team of experts to handle installation, maintenance, and repairs. We have a reputation around Northern Utah for getting the job done right the first time. For many years, our performance has garnered us loyal clients, and we do not intend to let them down anytime soon. We attempt to gain your confidence to prevent you from needing to search for another team in the area. Contact us today to learn more about our many different products or schedule a free estimate for your following gutter services!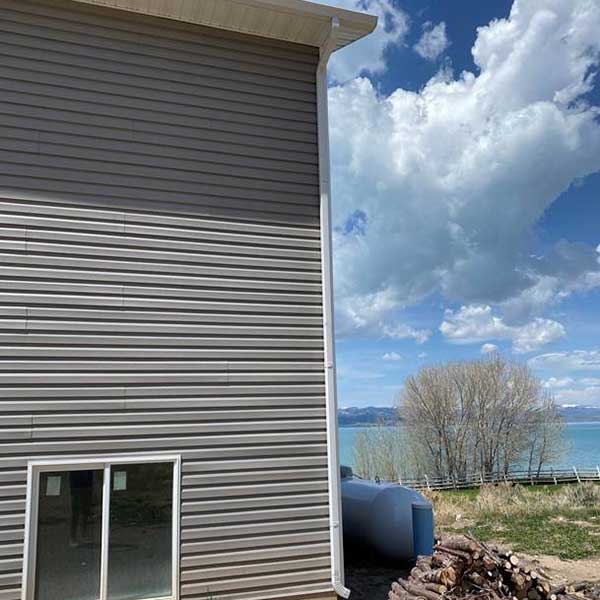 Commercial and Residential Gutter Services
At Skabelund Rain Gutters, we work hard to deliver the very best gutter services throughout the Northern Utah area. As professionals at our craft, we give you the best solution possible by manufacturing our seamless gutters and other options by hand. You work with the crew that constructed your new system, so you can speak directly with the maker if there are any issues or questions. They are also the same team you will deliver all maintenance and repairs when they become necessary. You can also ask them about any care you can perform between our visits to ensure they operate at their full potential and live their most extended lives. Residential homeowners and commercial controllers can rely on our trained and friendly staff for all of the following gutter services:
We Make Gutter Installation Easy
Gutters can often go overlooked because of the amount of care and attention they need to function and perform their duties for the home entirely. Cleaning them can get put off for weeks, and if you need a team to remove and replace them, Skabelund Rain Gutters is that team. Our team of specialists swiftly gets down your older gutters and replaces them with a budget-friendly modern option. We can even install gutter guards to protect them even further. These also help with regular maintenance to allow them to do their jobs better without climbing ladders as often. You can call on us instead when you do these gutter services to safeguard yourself from a potentially dangerous situation.
 Skabelund Rain Gutters is Here to Repair Your Gutters
At Skabelund Rain Gutters, our highly qualified team uses top-of-the-line materials and cutting-edge production technologies to go above and beyond other gutter service companies. Having compromised gutters can bring severe damage to your home and business if not handled swiftly and correctly. Our team can successfully identify faults and weak spots to provide you with a thorough assessment and the necessary steps to fix them properly. All gutter services and products come with a free estimate as well to help us be as transparent and trustworthy as possible. We aim to protect your home from water and debris damage by crafting the best gutter products and delivering high-quality gutter services such as repairs and replacements.
Call on Our Gutter Professionals Today!
Protecting your gutters helps your home stay safe through any-sized rainstorms by giving the water a better path to follow away from your foundation. For years, Logan and Layton, UT residents, and business owners have trusted our staff with gutter services because they know we have put in the time and effort. By manufacturing our gutter systems, we can ensure their performance exceeds all of your expectations. Our gutter services provide them the necessary protection they need to survive and serve your home and office. Not only are they cost-effective, but they're also highly reliable. See for yourself by contacting us today for a free estimate! We look forward to giving you the gutter installation, repair, and cleaning services your property deserves.
Seamless Gutters Done Right