Skip to Content
Rain Gutter Installation Services in Lindon & Layton, Utah
We Are Your Local Rain Gutter Installation Experts
Seamless rain gutters are simple additions to your home's exterior that can result in significant protection against flooding and water damage while also enhancing your curb appeal. Skabelund Rain Gutters is proud to provide and install these features for homeowners in Layton and Logan, UT, as well as the surrounding area. We are committed to customer satisfaction, so we promise careful attention to detail with every project. Our team comprises skilled, friendly installers who will help you understand why you need seamless roof gutters and explain our installation techniques before beginning. We want you to be a part of the process every step of the way. Call us today to learn more about seamless rain gutters in Northern Utah.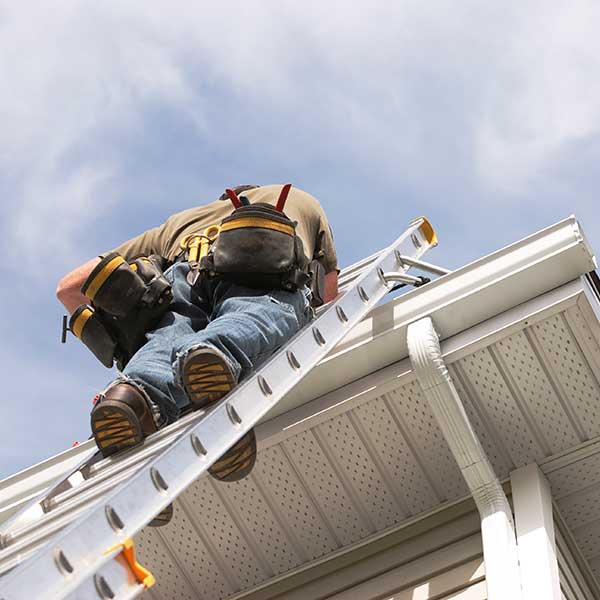 Why You Need Rain Gutters for Your Home
Rain gutters are designed to divert water away from your home. During a Utah rainstorm or as snow thaws, homes without gutters are vulnerable. Water can damage doors, foundations, siding, and windows, leading to costly repairs. Skabelund Rain Gutters will help you avoid these disasters with rain gutter installation for your house. Our simple components will:
Prevent Decay – Water can sneak under your home's exterior or roof and cause damage, but rain gutters will divert it away from your house.
Protect Against Mold – If your home's exterior collects too much water, mold will start to develop. Rain gutters can reduce the rush of rainwater.
Prevent Basement Flooding – Effective gutters will steer rainwater away from your foundation to prevent it from entering your home or basement.
Protect Landscaping – Rain gutters will control how much water passes into your yard, preventing landscape damage and soil erosion.
Keep People Dry – Gutters prevent rainwater from cascading off your roof and onto your head when you are entering or exiting your home.
Enhance Curb Appeal – We offer a range of aesthetically-pleasing seamless rain gutters to enhance your home's curb appeal.
Benefits of Our Seamless Rain Gutters
Seamless rain gutters from Skabelund Rain Gutters have their share of advantages. Our expert installers will ensure your gutters fit perfectly to avoid any leaks or cracks. This will guarantee your home's protection against water damage during inclement weather. Other benefits of our seamless rain gutters include:
You can choose from a wide range of eye-catching color patterns
Seamless gutters require little to no maintenance because they are firmly fixed to your home
Our products are made to measure, so they are sure to fit perfectly
Because our seamless rain gutters only have joints and fasteners at corners and downspouts, they are not prone to leaking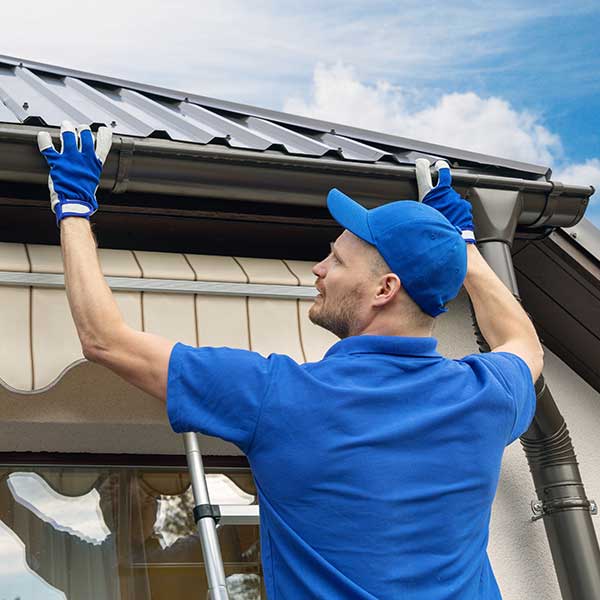 Our Rain Gutter Installation Process
Our trained professionals have been installing seamless rain gutters on Northern Utah homes for years, so you can rest assured knowing we will do the job right the first time. We will take precise measurements of your house to create solutions that fit perfectly and then carefully affix them to your home's exterior to prevent your roof, siding, windows, and foundation from water damage during storms. If there are any issues, we will return to resolve them quickly and efficiently.
Why You Should Choose Skabelund Rain Gutters
Skabelund Rain Gutters is a sister company of Martin Skabelund Roofing, so our customers know to expect a hometown feel and friendly service with every project. We are confident we can exceed our clients' expectations because we stay true to our values of honesty and integrity, regardless of a project's scope. We can perform seamless gutter installations for residential and commercial clients, and we are happy to assist with a host of other services as well.
Ask About Our Other Services
Seamless gutter installation is not our only area of expertise. We also provide a range of other home services, including:
Gutter Repairs – Our experts will repair your gutters to ensure they offer the protection you need.
Soffit and Fascia Installation – We install soffits and fascia in Logan and Layton, UT to enhance roofs' aesthetics and functionality.
Gutter Cleaning – Gutters are most effective when they are free of dirt and debris. We offer gutter cleaning services to ensure water flows freely.
Contact Skabelund Rain Gutters Today
If you want protection from rainwater and melting snow and ice in Logan and Layton, UT, trust the seamless gutter installation experts at Skabelund Rain Gutters to cre
ate a solution. We will measure your home and provide perfectly-fitting, aesthetically pleasing gutters to prevent water damage. Contact us today for a free estimate.
Seamless Gutters Done Right