Skip to Content
Rain Gutter Repairs In Logan & Layton, UT
We Are Northern Utah's Gutter Repair Specialists
The gutters hanging from the roof of your home or commercial property are essential for protecting your building and landscaping. But cracks or leaks will minimize their effectiveness. If that happens, you should enlist the help of Skabelund Rain Gutters. We provide professional gutter repair services in Logan and Layton, UT. We have been serving customers throughout Northern Utah for years. Our experts are adept at quickly and efficiently repairing gutters to ensure they will provide a line of defense during the next rainstorm or snowstorm. Call us today to learn more about recognizing when you need gutter repairs and our process.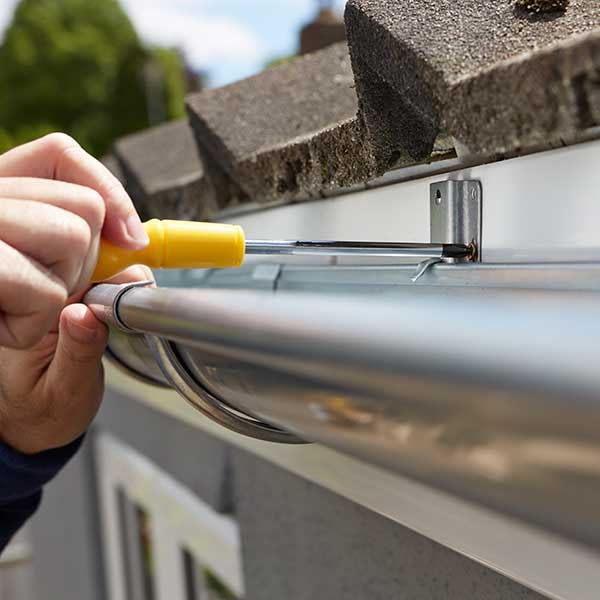 Signs You Need Rain Gutter Repair Services
Gutters are probably not the first features that come to mind when you consider home improvements, but perhaps they should be. They are critical barriers against water damage during inclement weather. In some cases, you will readily notice leaks or breaks in your gutters. Less obvious signs you need gutter repairs include:
Sections that are missing nails or screws
Damaged fasteners
Leaning, bent, or uneven gutters
Stained siding
Mold or mildew growth
Excessive rusting
Standing water near your foundation
Peeling exterior paint
Stagnant water in your gutters
Leaks or flooding in your basement or crawl space
Aged system
Why Gutter Repairs Should Be A Priority
Gutters are essential to the drainage system of your roof. During a Northern Utah rainstorm or snowstorm, homes with faulty rain gutters are vulnerable to significant damages, which can lead to costly repairs. Having the professionals at Skabelund Rain Gutters repair your gutters is a much simpler solution than addressing damages to your windows, siding, roof materials, or foundation. Gutter repairs should be a priority because quick action now can save you a lot of hassle and money in the long run.
How We Will Repair Your Leaking Gutter
Our seasoned gutter professionals have been repairing gutters in the Beehive State for years, so we know what to expect and how to address a wide range of issues. We will visit your home to complete a thorough inspection of your rain gutters. We will note any reasons for standing water, improper flow through the channels, and causes for concern. With a firm understanding of your issues, our team will use state-of-the-art equipment to safely address them quickly and efficiently. Our repair services include reattaching gutters, replacing nails and screws, repositioning gutters, and much more. We are proficient with traditional and seamless rain gutters.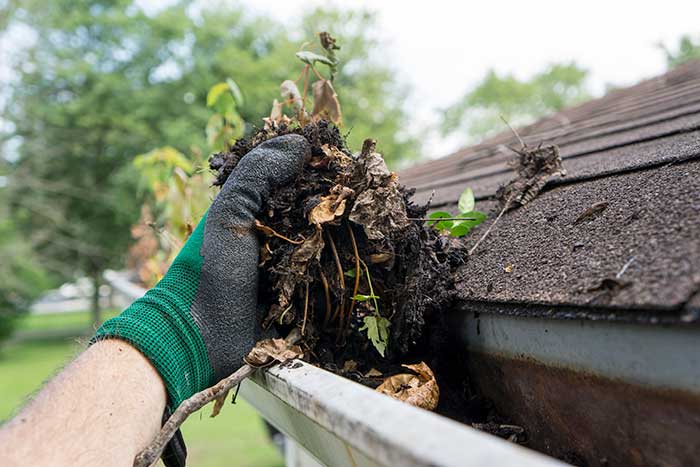 Ask About Our Other Services
While we are proficient at repairing gutters in Layton and Logan, UT, that is not our only specialty. Our other services include:
Seamless Gutter Installation – Skabelund Rain Gutters can install seamless gutters to improve the look and functionality of your roof's drainage system.
Soffit and Fascia Installation – Our soffit and fascia installation services will enhance the performance of your home's gutters.
Gutter Cleaning – We will thoroughly clean your gutters to ensure rainwater flows through them freely.
Why You Should Choose Skabelund Rain Gutters
Skabelund Rain Gutters is a local Northern Utah company that believes customer satisfaction is of utmost importance. Our team will treat you like family, regardless of the scope of your project. We take pride in the reputation we have built on our core values of honesty and integrity. These principles help us exceed our customers' expectations whether they need minor fixes or complete gutter replacement services. Our solutions are quick and cost-effective, so rely on us when you need gutter repairs.
Contact Skabelund Rain Gutters Today
If you notice the gutters on your residential or commercial property are sagging or leaking, do not hesitate to take action. Skabelund Rain Gutters offers the best gutter repair services in Logan and Layton, UT. Our professionals will promptly schedule a time to visit your home or office and restore your gutters' functionality and aesthetics. Contact us today to request a free estimate.
Seamless Gutters Done Right