Skip to Content
Home Gutter Solution Services in Nibley, UT
Gutter Services from Trained Professionals
Your gutters are an essential part of your home's exterior. Without working gutter and downspout systems, water can pool around your foundation, leading to dangerous leaks and even costly damage and repairs. Skabelund Rain Gutters in Nibley, UT, has the solutions you need. Our local, family-owned company offers a broad range of professional gutter services designed to keep your systems clear and water flowing away from your property. As a sister company of Martin Skabelund Roofing, Skabelund Rain Gutters' highly trained teams of professionals use their expertise and top-rated materials to provide the friendly, efficient service you expect. From regularly scheduled gutter cleanings to complete gutter installation and replacement work, we go beyond service standards and deliver the beautiful, functional results you want for your home. Contact us today for more information or to schedule your free on-site estimate.
A Broad Range of Gutter Services
When your gutters are damaged, leaking, or compromised, don't wait on repairs or replacements. The Skabelund Rain Gutters teams can prevent faulty systems from wreaking havoc in your home. With our wide array of exceptional services, we can quickly identify any weak spots in your gutters and offer the right options to repair or replace them fast. As your true local professionals, we use only the latest tools, technologies, and methods to deliver superior gutter services for your home. Some of our top offers include: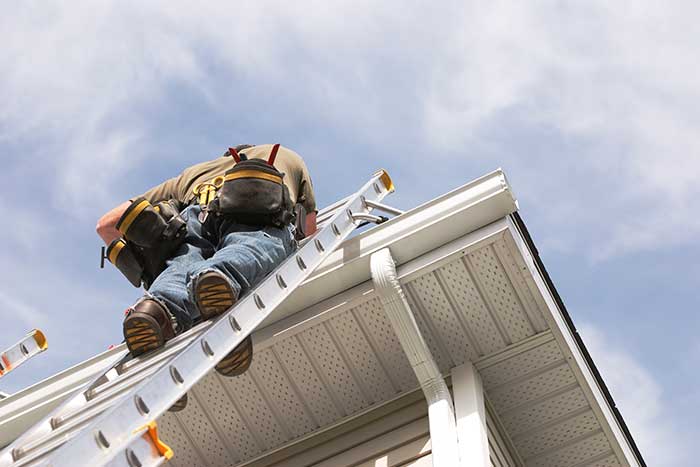 Just as the name implies, seamless gutters are new gutter installations without seams. This technological advancement keeps all debris from entering your gutters and causing leaks, damage, and clogs over time. Customers choose seamless gutters for their easy installation, minimal maintenance, cost-effective function, and customization. Because we manufacture our seamless gutters, our rain gutter installation contractors offer various material choices, color combinations to match the existing exterior of your home, and custom dimensions as well. Our seamless rain gutter installations are guaranteed to add undeniable curb appeal to your home and give you the best return on investment in repair cost savings year over year.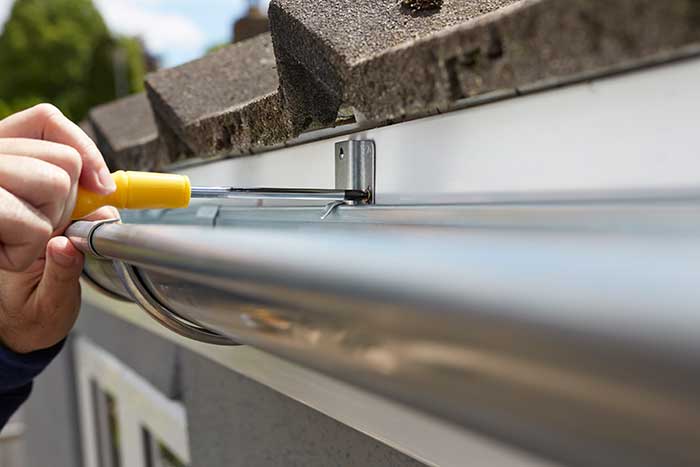 Whether your home has modern seamless gutters or a traditional gutter system, the technicians at Skabelund are fully trained to offer you exceptional repairs. Our mobile teams will come to your home, assess all the damage from storms, winds, and wear and tear, and offer you complete remediation at a price you can afford. We use only state-of-the-art equipment to clear water channels and safely repair any issues to give you peace of mind. Whether you simply need a few nails or screws to reinstall slanting components or complete gutter replacement, Skabelund has the skills to work on projects of any size or scope. Our company has helped many homeowners throughout Logan, Layton, Nibley, and Northern Utah return full function and stunning aesthetics to their gutter systems, and we can help you too.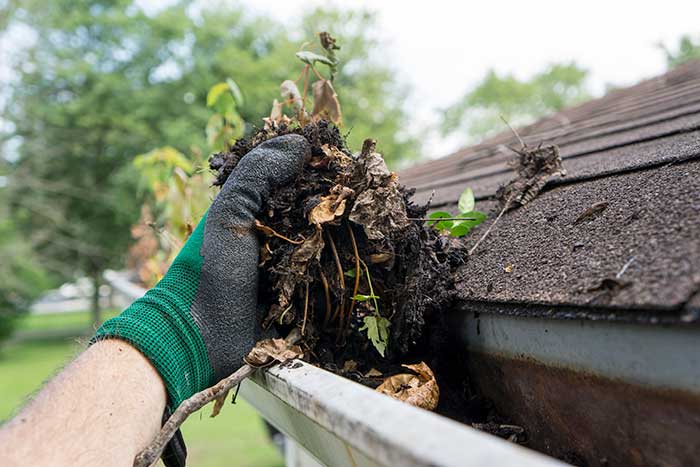 Neglecting your gutters can lead to severe water damage, mold growth, soil erosion, and even foundation flooding over time. As the premier gutter specialists in Northern Utah, we remove that worry with exceptional gutter cleaning services that do more. Our teams remove all debris, branches, and plant life from inside your gutters, use industrial-strength suction to remove any additional materials, and flush out your gutters to ensure the strongest water flow possible. We'll also look for any additional telltale signs of gutter damage and make helpful recommendations for supplemental service should your gutters require it.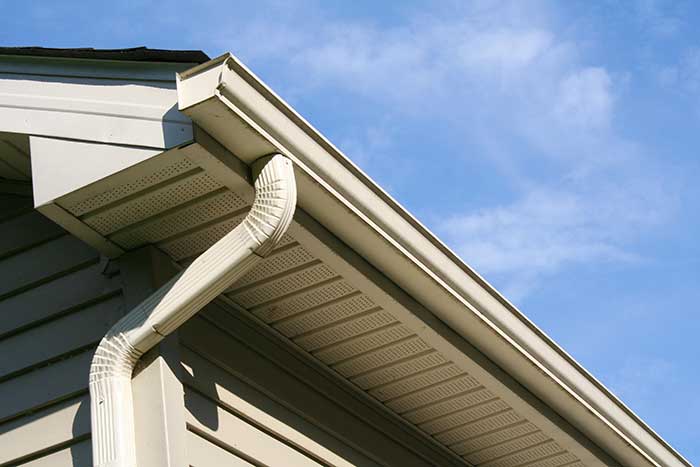 Many of our customers have never heard the terms soffits and fascia before, despite their importance in home construction. These essential components help to support and ventilate your roof, ensure optimal durability and gutter function, especially during storms, and prevent harmful damage over time. Soffits serve as the baseboard that connects your home to the bottom of the rain gutters. They help properly ventilate your roof and prevent structural damage from condensation, mold, and mildew. Fascia is the longboard that sits on top of your soffits and runs down the horizontal length of your home's exterior. These incredible design additions are attached to the roof trusses to support the gutters and enhance your roof's looks and functionality.
Contact Us for All Your Gutter Service Needs
Don't leave your residential investment unprotected. Get superior gutter service from Skabelund and create critical safeguards for your home. Our reliable, affordable assistance can give you the looks, function, and peace of mind you want for your home, as well as professional-grade preservation that lasts for life. We invite you to contact us today for more information or to schedule your free estimate. We look forward to giving you the outstanding installation, repair, and cleaning services you've been searching for.
Seamless Gutters Done Right