Skip to Content
Reliable Gutter Cleaning in Logan & Layton, UT
Gutter Cleaning Services by Skabelund Rain Gutters
Skabelund Rain Gutters provides reliable gutter cleaning services for homeowners throughout Logan and Layton, UT. As your local gutter installation experts, we understand the importance of maintaining your home's gutters to help protect it. Your seamless gutters are an essential part of your home's water prevention system and, if they're clogged or damaged, can lead to severe and costly issues with your home's roof, foundation, siding, and windows. Our seamless gutters are well known for requiring minimal maintenance. However, it's important to have them professionally cleaned to ensure they're working correctly. We're Northern Utah's premier choice for gutter cleaning due to our thoroughness and commitment to complete customer satisfaction. We understand gutters aren't likely the main focus of property owners when it comes to your home or office. With quality gutter cleanings, you won't need to worry about avoidable water damage during heavy rains. Learn more about our services and why gutter cleaning is necessary for your seamless system.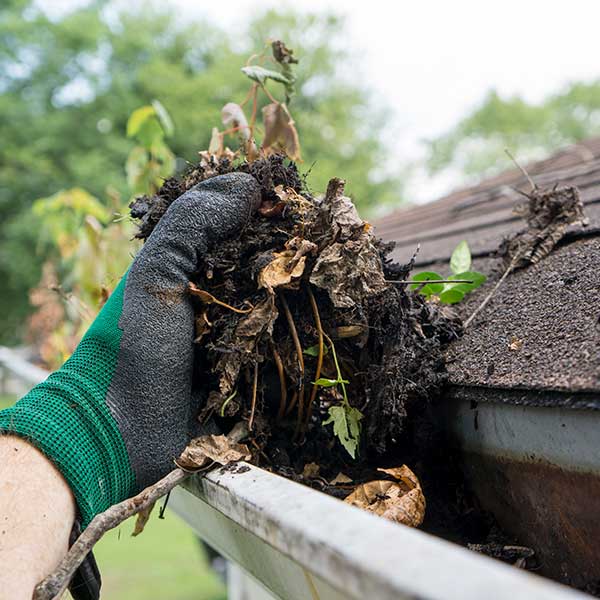 How to Know When Your Gutters Need Cleaning
For homeowners with gutters on the 2nd story, it may be challenging to know exactly when it's the right time to clean them. However, there are a couple of obvious signs that your gutters need professional cleaning. If you're unsure, you can always count on our team to visit your home for a free estimate. Contact us if you notice any of the following issues with your gutters:
Plant Growth – In order to grow, plants need soil, sun, and water. If you notice plants growing in your gutters, it's a sign your gutters need to be cleaned. Dirt and the locked-in moisture can cause severe damage to your cutters and lead to mold and mildew growth. Not only that, the added accumulation of weight can cause your gutters to break.
Leaves and Debris – Storms with high winds and rain will knock down leaves and branches, which may get lodged in your gutters. If this happens, it can cause the whole gutter system to fail and lead to added accumulations. It's important to remove any debris from your gutters to prevent water from overflow over the side.
Pests – In the right conditions, rodents, squirrels, and insects will nest in your gutters, preventing water from draining properly and even causing damage to your home's siding and gutters. Removing a nest can be dangerous work that should be handled by a professional
Sagging Gutters – If you notice your gutters sagging or beginning to pull away from the side of the fascia, then it's time to contact us. Sagging gutters indicate that there is a lot of debris stuck inside, which can lead to damage to your home.
Benefits of Professional Gutter Cleaning
Cleaning your home's gutters may feel like an unnecessary chore. However, there are many benefits to your home when you choose professional gutter cleaning services by Skabelund Rain Gutters. Our team has the experience and equipment to handle any size job. Don't risk injury and take back your weekend by choosing our professionals to clean your gutters. Gutters should be cleaned at least twice a year to prevent damage and to ensure they are diverting water away from your home. Some additional benefits of cleaning your gutters include:
Prevents Water Damage & Flooding – When your gutters fill with leaves and debris, rainwater will often cascade over the side, damaging your home's windows, siding, and eroding away at your basement foundation.
Removes Nests – Insects and animals build nests in gutters, damaging them and your home's siding.
Better Maintains Your Landscape – If your gutters aren't working correctly, it can damage expensive landscapes around your home. When water spills over the side of your gutters, it causes soil erosion and can kill flowers.
Our Gutter Cleaning Process
When it's time to clean your gutters, choose the professionals at Skabelund Rain Gutters. We combine years of experience and effective methods with helping protect your home while improving its curb appeal. We have helped hundreds of homeowners throughout Logan and Layton, UT, with our gutter cleaning services, and we are confident we can assist you as well. During our gutter cleaning service, we'll:
Remove all the debris, branches, and plant life from inside your gutters
Use industrial-strength vacuums to clear out remaining particles
Thoroughly cleaning the inside and outside of your gutter system
Flush out your gutters to ensure proper water flow
Clean up the debris discarded from your gutters so your property is left clean
Lookout for any repairs that need to be done
Why You Should Trust Our Professionals
Skabelund Rain Gutters is the trusted professional for all of your gutter cleaning needs. We service both residential and commercial customers and offer affordable rates, reliable services, and thorough cleanup once we're finished with your gutter cleaning project. Whether you want our team to visit your home for quick gutter cleaning services, or you'd like to have the gutters on your multiple commercial buildings cleaned, Skabelund Rain Gutters is here to help. Contact us today to schedule your free estimate.
Seamless Gutters Done Right