Skip to Content
 Trusted Local Gutter Experts In Northern Utah
Reliable Gutter Guard Installation Protects Your Home
Your gutters protect your home from rain and small debris, but what happens when they need protection? You call on your local gutter experts in Logan and Layton, UT. For years, Skabelund Rain Gutters has been the team to call when you need assistance with your gutters. One of our specialties is installing gutter guards around your home. Our team understands exactly how to protect your gutters so they can continue to safeguard your home from issues with moisture and debris from getting you your foundation or the wood used to construct your home. Give us a call today and receive an estimate for superior gutter guard installation. We can also help by suggesting our many other services to ensure your home is as protected as possible.
Gutter maintenance is another service we offer to protect your system further. With these added services, you can rely on us any time of year when your gutters need some assistance. We can even help with repairs and replacements when necessary. With regular inspections, we can even help you prepare for complete replacement instead of becoming a surprise and placing you and your house in duress. Reach out with you have any further questions or would like to set up an initial consultation.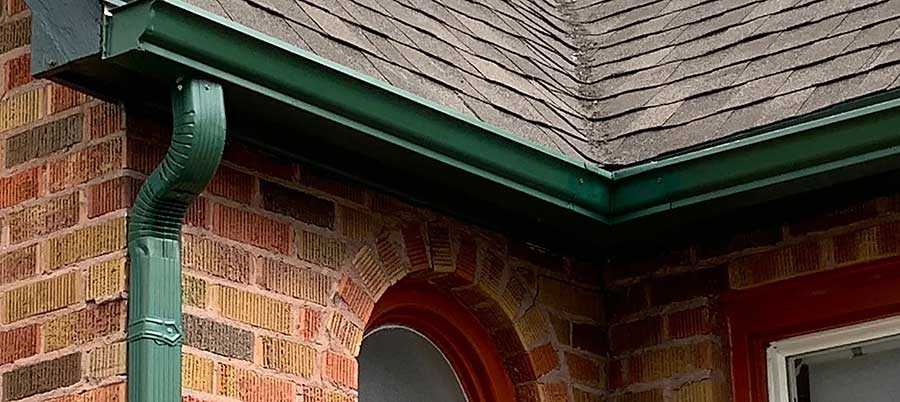 Gutter Guard Installation in Logan and Layton, UT
Once you have agreed to hire Skabelund Rain Gutters for our stellar gutter guard installation skills, we will get to work swiftly to offer your home further protection. Our team has all the proper training, and industry-leading equipment to install these gutter guards no matter how high successfully or inconvenient your gutters may be located. We have worked on the house all over Northern Utah and cannot wait to get to yours. By offering these services, we make your gutters last much longer than their original lifespan. They block small debris such as leaves, twigs, and more which work to stop them from performing their duties.
Premium Quality Gutter Guards From Skabelund Rain Gutters
When protecting your gutters, we should work with high-quality guards to ensure they remain as safe as possible after your next storm. At Skabelund Rain Gutters, we only work with the best, which is an added benefit of choosing our team. Thanks to our experience in the industry, we can easily find the perfect gutter guards for your Northern Utah home. Below are the options we have to choose from and install:
Brushes: Installed along the gutter cavity, these guards allow water to easily travel through while catching items such as branches and leaves. It is a relatively simple mechanism but will require more attention than other options to clean out the brushes and ensure they can perform as intended.
Foam Inserts: Working similarly to brushes, these inserts are installed in the gutter's cavity to block debris from entering the reservoir. The advantage of these gutter guards is the foam will not hand on to the debris like the brushes do and will require less attention when it comes to cleaning them.
Micro-Mesh Screens: One of the most popular choices, thanks to their effectiveness and cost. We can provide you with a variety of different hole sizes, but the most widely used option is the 50micron diameter. The Skabelund Rain Gutters team will help you select which size would be perfect for your home.
Aluminum/PVC Screens: These much more durable options protect your gutters like micro mesh. With various holes sizes, we can help you find the right size for your gutters and the type of debris experienced from wind and rainstorms. The added benefit is they do not break or tear as quickly as their micro-mesh counterpart.
Why Install Gutter Guards?
Gutters on their own are only the first line of protection when considering how moisture can get into your home. Gutter guards grant you further protection and prevent mold from growing, structure from weakening, and floods in your basement. We suggest adding these because even the best gutters on the market are susceptible to becoming clogged. Another issue to worry about when they become stuffed with these natural blockages is that they can become heavy and snap off or break, taking part of your roof with them. Other problems you can experience with gutter guards installed include:
Water leaking
Coming loose or removed from the house
Damage to your roof
Damage to drywall, exterior walls, and insulation
Flooding and standing in the basement
Stains on your foundation
Potential mold and mildew growth
Landscaping issues such as flower bed erosion
And mor
Reach Out to Skabelund Rain Gutters For Superior Protection
The Skabelund Rain Gutters team cannot wait to help support your home's gutter system by installing high-quality gutter guards. This system can often go overlooked on the house, but its importance knows no bounds. Protect your home, belongings, and wallet by reaching out to the specialists at Skabelund Rain Gutters when you are ready to have a professional team install gutter guards. Please feel free to ask any questions you may have as well to get the answers and confidence necessary to move forward with the project.