Skip to Content
 Soffit and Fascia Installation in Logan & Layton, UT
Roof Soffits and Fascia Installation by Skabelund Rain Gutters
Not only will your roof soffits and fascia add a finished design element to your home, but they are also an essential part of your property's water prevention system. At Skabelund Rain Gutters, our knowledgeable and experienced team of gutter technicians can install new soffits and fascia to improve the value of your home and while helping to protect it from water damage. As the area's expert in soffit and fascia installation, we've helped protect hundreds of customers in Logan and Layton, UT. When you choose Skabelund Rain Gutters for your soffits and fascia installation, you can feel confident that our team will arrive at your home on time and are prepared to work. We always aim to go above and beyond for all of our customers. Contact us today to schedule your free estimate.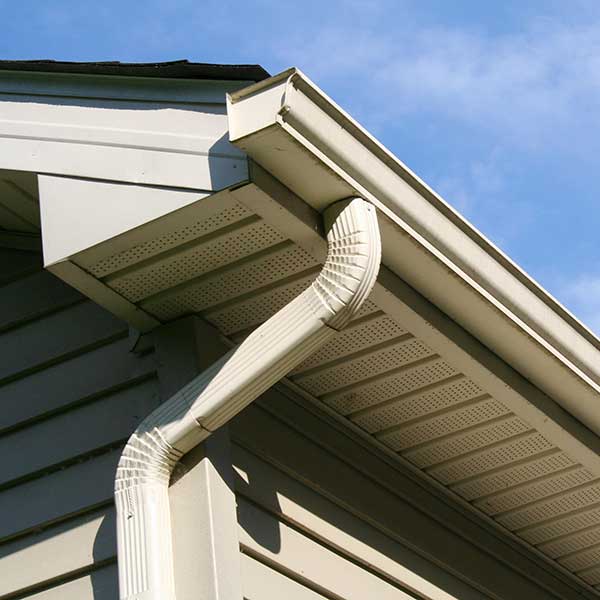 What Are Soffits and Fascia?
As part of your complete gutter installation, our team may recommend an update to your home's fascia and soffits. However, many homeowners may have never even heard the term before. However, they are a pivotal part of your roofing and water prevention systems. Luckily, our team is available to help you better understand the importance of your home's soffits and fascia.
Soffits – Soffits are installed underneath where the roof hangs over the side of the exterior of your home's wall. The roof overhang design is essential for protecting your home's siding and foundation from rainwater. However, it does create an opportunity for moisture to build up underneath the roof. Your soffits' primary responsibility is to provide proper ventilation into your home's roof. This prevents moisture buildup, mold growth, and timber decay.
Fascia – The fascia is a design element that runs alongside the side of the overhang of your home. Not only does it provide you with protection against rain, but it is also where your gutters are installed. Fascia is important to ensure your gutters are properly draining water away from your home.
 Why Are Soffits Necessary?
Homeowners may be hesitant to spend money on an aspect of their home they may have never considered before. However, soffits in good condition can save you thousands of dollars in repairs down the road and a lot of headaches. Soffits are manufactured specifically designed to provide ventilation into the rafters of your attic. They offer two benefits: first, the ventilation will prevent any moisture buildup near your home's roof and mold growth and rot. Second, the vents allow warm air to exit the hole during the hot summer months, ensuring your attic space is more comfortable. Avoid roof rot, mold, mildew, and compromising your roof's structural integrity by allowing our professionals to install soffits at your property.
Update Your Roof With Fascia Installation?
Fascia is a crucial component of your home's roof and fixed to the roof trusses as a way to support the gutters and the bottom row of tiles of your roof. Fascia solutions are great for adding an extra design element to your building's exterior space and enhancing your roofing system's functionality. Fascia can also be ventilated on top to ventilate the roof even further. Fascia comes in various colors to match the aesthetic of your home.
Why You Should Trust an Expert for Your Soffit & Fascia Installation
Handy homeowners may feel that replacing their home's soffits and fascia is a project they can complete themselves. However, incorrectly installing fascia and soffits can lead to damage to your home's roof, gutters, and siding. It's essential that you call a professional team for all of your soffit and fascia installation services. At Skabelund Rain Gutters, our knowledgeable and experienced team of professionals utilize high-quality materials and installation methods to ensure the job is completed correctly. Don't rely on poor craftsmanship that makes your home vulnerable to inclement weather; choose Skabelund Rain Gutters.
Choose a Trusted Professional
Your home is your most important investment, so trust the knowledgeable and licensed team of professional contractors at Skabelund Rain Gutters. We combined decades of experience and high-quality products and materials to ensure that your home's soffits and fascia are installed correctly. New soffits and fascia provide your home with a beautiful appeal and protection against moisture and rain. Contact our team today to schedule your FREE estimate.
Seamless Gutters Done Right